about salt man
about salt man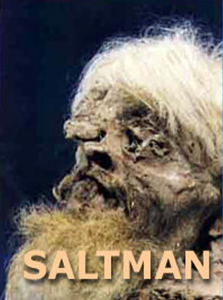 LONDON, August 24 (IranMania) – Modern equipment such as CT Scan and MRI will be used to recreate the faces of?saltmen?,a name given to well-preserved ancient bodies found in salt mines in Zanjan province, according to CHN. Iran?s Cultural Heritage and Tourism Organization (ICHTO) department in Zanjan province has sought the cooperation of a Danish university to recreate the face of Saltman Number Four.
  While bulldozing salt into trucks, they discovered the skeletons of the man, now nicknamed the Twin Salt Man, reminiscent of another similar discovery in 1994. "Some bones of his skull, jaw, hands and feet have been dug out and they are almost intact and wear hair and nails," said a local official in Zanjan Cultural Heritage and Tourism Organization (CHTO). Some pieces of clothing and a hand-woven thatch rug with a unique texture were discovered beside the Salt Man, who was 180-185 cm tall and aged between 35-40, as initial forensic tests indicate. The bones have been transferred to the provincial capital city of Zanjan for further studies. The Hamzelou salt quarry, some 75 km away from Zanjan, would also be expeditiously excavated in a bid to find possible artifacts around him, found just 30 to 40 meters away from the place where the first Salt Man was unearthed. Experts estimated the first find, aged 35-40 and measuring 165-170 in height, dated back to the Sassanid era, some 1700 years ago.
The body of the saltman is being kept at Reyhan Museum in Zanjan. Professor Niels Lynnerup, a forensic anthropologist and an expert in mummified bodies from Copenhagen University, will visit Iran in September to take 3D scan of the skull of Saltman #4 and his face will be recreated using advanced equipment. Meanwhile, a radiologist, Jalal Shokouhi said that necessary equipment is available to accurately examine mummified bodies adding that the use of X-ray and radiography is a universal way of identifying them and Iran has experience in this field. He said that Baqiatallah Hospital has examined the saltmen through 2D and 3D scan to recreate the entire body of the saltmen. Shokouhi said, Currently, we have the equipment in Iran to recreate the face of the mummified bodies and it is possible to do this by using scan and computer software? There is a record of examining antique materials, marble stones, sculpture and saltmen in Iran by using radiography, he pointed out. He said that a kind of polymer can be used to recreate the face of the saltmen as a sculpture and all equipment is available in Iran to do so.
---