Face of Fourth Iranian Salt Man to be Reconstructed
Face of Fourth Iranian Salt Man to be Reconstructed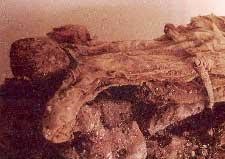 The face of one of the salt men discovered in Zanjan province is to be reconstructed by cooperation of a Danish scholar.
Tehran, 3 August 2005 (CHN) – The face of the fourth salt man discovered in the central province of Zanjan, who is the most intact and complete one of all, is to be reconstructed by means of developed 3D devices and cooperation of a scholar from Copenhagen University.
Although called salt man, the sexuality of the discovered body is not yet distinguished. However, experts believe that its physical features are more sign of its being a woman rather than a man.
To provide a detailed study of the body, after the preliminary works, more than 1000 pictures are taken of it and new software technologies are used to reconstruct its face.
According to restoration expert of the salt man number four, Hasan Rezai, new instruments are to be imported to Iran from Denmark for the studies and Niels Lynnerup, an expert in mummifying from Copenhagen University is planning to travel to the country to scan the skull, take 3D pictures of the soft tissues of the face, and carry on MRI tests.
The first discovery of salt men and their belongings in Chehr Abad mine of Zanjan province dates back to some ten years ago. They are among rare mummies discovered around the world that are mummified as a result of natural conditions. Natural mummies are categorized into three groups which include the ones mummified by ice, like the Italian iceman, those by salt, and those mummified in swamps.
So far samples of Zanjan salt men have been sent to Oxford University to be dated. The fourth salt man which is the most complete one of all discovered is now kept in one of the museums of Zanjan city, preserved and kept under proper conditions, awaiting further extensive studies.
In the recent years, archaeologists have been enabled to reconstruct mummies by means of new modern world technologies. As such is the reconstruction of the face of world-famous Egyptian Pharaoh, Tutankhamun by Egyptian, French, and American scholars.
---